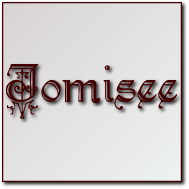 Der neue instrumentale Track von Jomisee heißt "One Of These Endless Days" und enstand schon im Jahre 2012!
Doch dieser Track wurde leider nie fertig und so verschwand dieser im Archiv von Jomisee. Nach dem Motto des Albums The Endless River von Pink Floyd, kommt Jomisee zumindestens nun auch mit einem Track und nicht mit einem ganzen Album aus seinem Archiv.
Einer unfertigen Version die gerade überarbeitet wurde! Dieser sollte damals zum gleichnamigen Album (2012) von Jomisee hinzugefügt werden, was am 7. Dezember 2014 nach fast zwei Jahren dann endlich geschehen ist!
Dieser Track "One of these endless Days" ist eine sogenannte Brücke zum Album "Life on Mars aus dem Jahre 2013, wo in diesen Track schon andeutungsweise Soundelemente aus dem späteren Album "Life on Mars" zu hören sind!
One Of These Endless Days! (2012 + 2014)