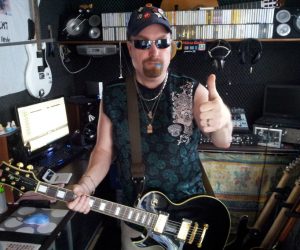 HARD ROCK – POWER METAL
Rock'n Herby spielt seit ungefair seinem 13. Lebensjahr Gitarre und es hat ihn schon früh in den 1970 Jahren zum Hard Rock hingezogen und spielte damals vor den 1990 Jahren in verschiedenen Jugend-Bands. Durch einen schweren Unfall mußte er dann in den 1990 Jahren das Spielen erst einmal aufgegeben, da seine Verletzungen zu schwer waren und man ihm gesagt hatte, dass er nie wieder spielen könne. Doch sein Kampfgeist und Überlebensdrang half ihn dabei alles wieder neu zu erlernen und auch durch seine Invalidität wollte man den Traum wieder Musik zu machen nicht aufgeben und hatte angefangen es neu zu probieren und sich auf die linke Seite orientiert, da seine rechte Körperhälfte nicht mehr gut funktionierte.
---
So begann er dann erstmals wieder eine Gitarre in die Hand zu nehmen und ein paar Töne auf der Gitarre wieder zu spielen. Es sollte ein sehr mühsamer und langer Weg werden und er hatte oft darüber nachgedacht, es aufzugeben. Doch Rock'n Herby wie er sich dann später als Interpret nannte wollte wieder spielen und ist heute, so sagt er: "Ich bin froh,  dass ich durchgehalten habe und wieder etwas auf der Gitarre spielen kann. Und es macht mir eben immer noch riesen Spaß zu spielen, wenn es auch nicht mehr so Professionell ist und klingt wegen seiner Einschränkungen und es sich nicht mehr so leicht spielen läßt, wie er es mal gewohnt war. Ist er aber dennoch sehr froh heute wieder ein bisschen mitmischen zu können".
---
Ein langer Weg, der sehr viel Zeit gekostet hatte. Doch wenn man sich heute die Songs von Rock'n Herby hört, hat sich dieser lange schwere und mühseelige Weg gelohnt. Auch wenn er, wie er es beschreibt, seine damaligen Fähigkeiten nicht mehr ganz erreichen konnte, ist er ist froh, daß es ihn gelungen ist wieder Musik zu machen.
Als Gitarrist versucht er sich ab und zu mal ein bisschen am Bass, spielt alle seine Songs selbst und nimmt Sie auch selbst auf. Die Studio-Technik so Rock'n Herby ist sicher sehr veraltet und ist nichts besonderes dennoch versucht Rock'n Herby daraus das Beste zu machen. Rock'n Herby macht es bis heute sehr großen Spaß wieder Gitarre zu spielen und auch es zu genießen. Er hat im laufe der Zeit seinen eigenen Stil entwickelt mit Einflüßen, die er nicht verleugnen kann, die hauptsächlich von deutschen Bands kommen. Seine Musik ist Instrumental und Rock'n Herby versucht damit seine schweren Zeiten zu verarbeiten und darum spiegelt sich auch sehr vieles an Emotionen in seine Musik wieder…
Rock'n Herby: Produzent, Gitarrist, Drummer, Bassist, Keyboarder, Songwriter, Band und Tonstudio
---
THE MUSIC OF ROCK'N HERBY
---
---
IT'S RAINING AGAIN BY ROCK'N HERBY
---
PLAY IT AND LET'S ROCK!
THAT'S ME – New Mix – 2017 – Album: My Life in Melody
---
LOVE IS PAIN – 2017 – Album: Victim of Love
---
THUNDER AND LIGHTNING – 2017 – Album: Storm
---
IT'S RAIN AGAIN – 2017 – Album: Storm
---
FAREWELL – 2016 – Album: Tears of Blood
---
WHEN YOUR DOWN – 2015 – Album: Stand up and Scream
---
EMOTIONS UNDER PRESSURE – 2014 – Album: Mixed Emotion
---
I WAS LOOKING FOR LOVE – 2014 – Album: Mixed Emotion
---
SHADOW OF MY DREAMS – 2014 – Album: Dying Dreams
---
WHEN ANGELS CRY – 2013 – Album: No. 13
---
SHADOW OF DAMNATION – 2013 – Album: The Night of Shadows
---
---
JOMISEE & ROCK'N HERBY & GERRIT SCHEEL
NO RENDEZVOUS – 2015 – Album: Jomisee – The Endless Days
---
WEBSEITEN VON ROCK'N HERBY
Rock'n Herby (official webpage)
---
ROCK'N HERBY
---
Cover and Images by Rock'n Herby (Copyright by Rock'n Herby)
Music by Rock'n Herby
Ein großes Dankeschön an Rock'n Herby für die freundliche Genehmigung der Textinhalte und der Bilder!
Quelle: MyownMusic/Rock'n Herby
Updates: 19.11.2017/26.11.2017
---