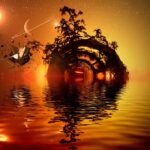 Das Album "WHEN IT RAINS IT POURS" wurde heute am 9. September nun endlich zum Download auf dieser Webseite von Jomisee freigegeben.
Idioms, Proverbs & Expressions war der Arbeitstitel dieses Albums, dass wieder aus dem elektronischen Bereich kommt. Ein tolles Thema, was sich aber leider schwer umzusetzen war.
Denn seit Februar 2023, wo der erste Track "BURN BRIDGES" veröffentlicht wurde, kam danach eine Zeit wo man nicht mehr den richtigen Weg fand.
Nach dem Track "WHILE THER'S LIFE THERE'S HOPE" im April 2023 gingen dann einem irgendwie Ideen aus, bzw. eine Art der Lustlosigkeit, was das Musikmachen betraf, machte die Runde.
Erst ab Ende Juli, Anfang August ging es dann weiter, wo man plötzlich noch einmal einen Schub bekam. Doch es wurde wieder sehr experimentell. Was eigentlich bei Jomisee die Vorstufe bzw. Entwurf eines Tracks wäre. Man experimentierte wieder viel mit unzähligen Sounds und kam wieder mal vom rechten Weg ab.
Es ist nicht das beste Album von Jomisee geworden. Eher eine Brücke zu etwas anderem oder neuen, so hofft man zumindest für die Zukunft.
Fazit, eine tolle Idee vom Arbeitstitel her. Doch in seiner Umsetzung, da hätte man leider mehr daraus machen müssen und somit ist es ein wenig Gewöhnungsbedürftig geworden. Wie man ab dem dritten Track "TAKE IT WITH A GRAIN OF SALT" auf diesem Album "WHEN IT RAINS IT POURS" dann feststellen wird.
---
TRACKLISTE
---
01. "BURN BRIDGES" — 5:15
02. "WHILE THERE'S LIFE THERE'S HOPE" — 3:55
03. "TAKE IT WITH A GRAIN OF SALT" — 6:27
04. "TO MAKE MATTERS WORSE" — 5:57
05. "BEAT A DEAD HORSE" — 3:06
06. "IF PIGS COULD FLY" — 3:30
07. "PULL YOURSELF TOGETHER" — 4:39
08. "MISS THE BOAT" — 2:35
09. "CALL IT A DAY" — 5:03
10. "GO BELLY UP" — 4:03
11. "HANG IN THERE" — 3:05
12. "WHEN IT RAINS IT POURS (DRUM AND PERCUSSION MIX 3)" — 3:14
13. "WHEN IT RAINS IT POURS (New Mix)" — 3:13
14. "CALL IT A DAY (NEW MIX)" — 5:03
---
---
---
images: public domain cco – music by jomisee – edit 09.09.2023 – update 10.09.2023
---