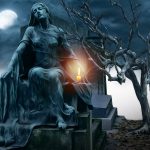 Nach den ersten zwei Sessions zu "A DARK DAY IN THE LIFE", die ja doch mehr in die schrille und schräge Richtung gingen, versuchte man nun, es mehr ruhig angehen zu lassen.
Und so entstand dann diese Version, die vom Original immer mehr abweicht und schon fast gar nichts mehr mit dem Original der Version 3.0 zu tun hat.
Und so verändert sich dieses Stück mehr und mehr, wie auch die Zeit in der Wir leben…
---
A DARK DAY IN THE LIFE (ORIGINAL: DARK LIFE)
ICH GLAUBE ES WAR DIESES STÜCK WAS BUFFY 22 IM DEZEMBER 2019 ANIMIERTE, MAL WIEDR EINE COLLAB ZUSAMMEN ZU MACHEN. DOCH AUS BEKANNTEN GRÜNDEN, DIE ICH RESPEKTIERE, WURDE LEIDER DARAUS NICHTS. UND SO BLEIBT ES WEITERHIN NUR DER WUNSCH FÜR DIE ZUKUNFT, DASS ES VIELLEICHT DOCH NOCH EINMAL KLAPPEN KÖNNTE.
---
A DARK DAY IN THE LIFE (VERSION 3.83)
---
---
THE BIG EMPTY
---
---
images: public domain cco – music by jomisee
updated: 12.02.2020
---