Misery of Destruction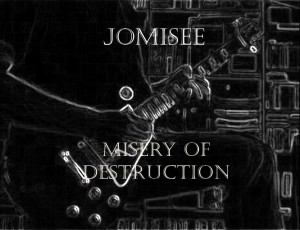 Es ist mit der Absicht wieder ein harter Song von Jomisee geworden. Der Song beinhaltet das Thema Krieg mit seiner Zerstörung und dem Elend der betroffen unschuldigen Menschen.
Ein Anti-Kriegssong! Give Peace A Chance! Das Mixing wird später noch einmal überarbeitet und ein Re-Release wird später dann irgendwann noch folgen, wenn die Ohren wieder mitspielen! Zur Zeit klingt alles gleich, egal am welchen Regler man auch dreht! 🙁
Dieser Song "Misery of Destruction" ist auf MyOwnMusic dort im Bereich Hard Rock zu hören und konnte sich dort auf der Nr.1 mehrmals platzieren! Im Bereich Rock (aller Genres) schaffte dieser Song immerhin eine Nr.15!
Bei SoundCloud läuft dieser Song zur Zeit auch sehr erfolgreich in den Hard Rock Charts, wo man dort bisher in den Top 10 eine Nr.9 erreichen konnte.