Jomisee – The Story of To A Dark Place (The End)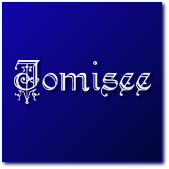 Man nehme ein bisschen Metallica, eine Portion Jomisee grob geschnitten, plus eine Prise pikantes von Maiko und fertig ist der Dark Rock von Jomisee!
Dieser Song entstand eigentlich sehr schnell und war eine gute Ablenkung zwischen den Geschehnissen der letzten zwei Monate.
Zum Inhalt dieses Song-Textes wollte man eigentlich lieber nichts sagen! Dieses prisante Thema ist in diesen Song nur leicht angedeutet und das "To A Dark Place (The End)" bedeutet eigentlich etwas anderes…
Der wahre Hintergrund zum Inhalt des Song "To A Dark Place (The End)" ist… "dieser düstere Ort ist mehr eine Umschreibung für das was einige Menschen tun (to a dark place), wenn ihnen das Leben nicht mehr Lebenwert erscheint (the end)! Doch diesen Schritt zu machen fällt den meisten schwer und so frist sich dann dieser innerliche Schmerz, einen langsam immer mehr auf, da keine Lösung in Sicht ist! Und so bewegt man sich dann immer irgendwo zwischen einem "I can't live", "I can't die"…
Erfreulich war es dann, das dieser Song bei MyOwnMusic in den Top 100 der Rock – Rock Charts sich 9 Tage in Folge auf der Nr.1 platzieren konnte. Insgesamt schaffte dieser Song "To A Dark Place (The End)" von Jomisee dort innerhalb der ersten zwei Wochen, sich 11 Tage auf der Nr.1 zu platzieren!
Die Lyrics von "To A Dark Place (The End)"

tonight is the night…
I can't live
I can't die
nothing in this world
can save me
it drives me out
to a dark place
tonight is the night…
loneliness gloomy loneliness
embrace me
I'm already dead?
I'm still alive?
or somewhere in between
I can't live
I can't die
nothing in this world
can save me
it drives me out
to a dark place
tonight is the night…
tonight is the night…
[Copyright by Jomisee – All rights reserved]