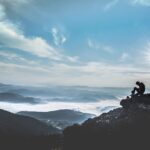 Nach Peter Gabriel's Album "Melt", habe ich mich mal mit dem Album "And then There Where Three" von Genesis befaßt und mich vom Titel "Down and Out" inspirieren zu lassen.
Dieses Stück mochte ich damals schon nicht aus diesem Album und es ist leider auch noch heute so. Dann muss da irgendwie noch Pink Floyd's "One of these Days" im Kopf herumgespukt haben.
Ist wieder ein Jomisee in typischer Manier geworden. Was für ein Durcheinander! Das experimentelle Album "Es kehrt Ruhe ein?" wird nach langem Überlegen kein Doppel-Album. Das ursprüngliche zweite Album wird dann den Titel "Weites Land" erhalten.
Doch es ist unwahrscheinlich, dass es in diesen Jahr noch angefangen wird. Da noch der ELECTRO WAVE 2022 im September und die AMBIENT WAVE 2022 im November auf MyOwnMusic stattfinden werden und man natürlich dabei sein möchte.
---
---
image: public domain cco
---