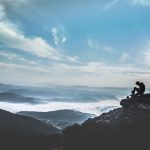 Nach der Bundesstraße 195 kommt nun die A 24. Auch dieser Abschnitt der Autobahn gehört zu meinem fast täglichen Weg nach Hamburg. Gefürchtet, verflucht und manchmal auch stressfrei, wenn da nicht diese LKWs wären. Ich gehe da mal nicht weiter darauf ein, da jeder Autofahrer weiß, was hiermit gemeint ist.
Nach dem "Unten und Raus" und auch dem "Zum Schmelzen bringen", was ja leider vom Mixing her noch nicht gelungen ist, geht es erst einmal weiter mit der experimentellen Musik, auf die Vorbereitung zum Album "Weites Land". Das Album "Es kehrt Ruhe ein?" ist ein sogenannter "Warm Up" für dieses kommende Album.
Diese Vorgehensweise hat man ja auch schon bei dem Album "The Dark Rock of Life" gemacht wurde. Hier hieß damals das "Warm Up" Album "The Dark Side of Life", wo auch über 20 Tracks als Entwürfe entstanden waren. Somit könnte aber auch das Album "Weites Land" dann endgültig das letzte Album von Jomisee sein.
---
---
Image: public domain cco – Music by Jomisee