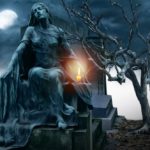 Nach dem Erfolg von "JUNO" mit der Version aus dem Jahre 2020 auf SoundClick, hat man ja am 14. März 2021 versucht eine Verbesserung von "JUNO" hinzubekommen. Die Version von "JUNO" aus dem Jahre 2020 war bisher der erfolgreichste Titel von Jomisee dort.
Man schaffte in den SoundClick Rockcharts dort eine Nr.3 (2x) und in den Psychedelic Rock Charts war es bisher 27x in Folge auf der Nr.1 in dem Sub-Genre auf SoundClick (Stand 18. März).
Seit ein paar Wochen läuft dort auf SoundClick nun die neue überarbeitete und wie ich finde die bessere Version aus dem März 2021. Das Stück ist sehr geprägt durch die Stimmungen im Juni des Jahres 2020 und in der zweiten Hälfte dieses Tracks fehlte irgendwie noch eine Steigerung, die ja dann am 14. März 2021 erfolgte.
Ob diese Entscheidung richtig war eine Art Zeitdokument zu zerstören, glaube ich eher nicht. Es ist eine Art musikalischer Verbindung zweier Stimmungen aus dem Jahre 2020 und 2021 die hier zu hören sind. JUNO spiegelt das vor den Veränderungen und das danach wieder, in der Hoffnung man hat sich für das richtige entschieden, was die Zeit zeigen wird.
Seit dem 20. April 2021 ist die neue Version nun der erfolgreichste Titel von Jomisee auf SoundClick. Dieses "JUNO" schaffte es den Rockcharts 2x in Folge auf der Nr.2 platziert zu sein. In den Psychedelic Rock Charts, Stand vom 22. April 2021, ist die neue Version von "JUNO" nun schon 19x in Folge auf der Nr.1 in diesen Charts. Somit ist das "JUNO" der achte Track für das Album "The Dark Rock of Life". Der neunte Track "Get Me Out of Here" läuft auch schon so langsam an. Doch dazu später mehr…
---
JUNO – NEW VERSION 2021
---
---
---
MyOwnMusic Charts – 18.03.2021
JUNO – VERSION 2020
Nr.1 (aller Genre Charts) – Nr.1 (Rock Charts) – Nr.1 (Psychedelic Rock Charts)
Auf MyOwnMusic gab es dazu auch ein Update der neuen Version.
---