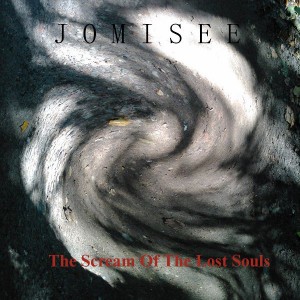 Nach dem doch sehr gelungenen Song "Zone of Uncertainty", war es doch ein wenig schwer dieser Linie treu zu bleiben. Die Anfänge von "The Scream of the Lost Souls waren sehr vielversprechend, doch um so mehr an diesen Track gearbeitet wurde, um so düsterer und schriller wurde der Sound.
Nach etlichen Änderungen entschied man sich diesen Track erst einmal nicht zu veröffentlichen, da auch die Weihnachtszeit vor der Tür stand und es nicht paßte zu diesen Zeitpunkt es zu veröffentlichen.
So wurde erst einmal ein Musik-Video von "The Scream Of The Lost Souls" bei YouTube veröffentlicht, was ja in den meisten Fällen eher umgekehrt ist in der Musikszene!
Jomisee sollte leider recht behalten, da dieser Song "The Scream Of The Lost Souls" dann kurz nach Weihnachten dann doch noch veröffentlicht wurde und einfach unterging bei den meisten Hörern.
Besonders bei ReverbNation kam dieser Song in den ersten zwei Wochen überhaupt nicht an. Was zur Folge hatte, dass Jomisee wieder auf eine experimentale musikalische Reise ging und zwischen diesen Feiertagen eine Session machte, wobei u. a. der Song "Heyela! (Shake It Up) heraus kam.
Während bei MyOwnMusic die Kritiken zu diesen Song "The Scream Of The Lost Souls" doch positiv waren, konnte bei SoundClick dieser Song auch keine großen Sprünge in den Instrumental Rock Charts machen, was die Vorgänger dieses Songs locker geschafft hatten. Einfach zu düster und zu schrill das ganze, aber auch durch diese Phase des Jomisee Rock muß man halt durch!
Einige Stimmen zu "The Scream Of The Lost Souls"
Der Titel sagt alles und das hast du vortrefflich umgesetzt, wie ich finde. Klasse Kopfkino und der Irrsinn (im positiven Sinne) kratzt an der Hirnrinde.
Taugt mir sehr!
"Düster" ist genau das, was mir dazu einfällt…
Als Soundtrack für einen Film oder für ein Spiel ist es absolut genial geeignet, wirklich toll gemacht!
Das Musik-Video zu "THE SCREAM OF THE LOST SOULS"
JOMISEE ON REVERBNATION