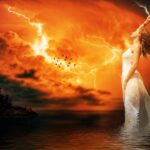 Die Textidee stammt aus einem Entwurf zu einer Ballade mit dem Titel "It was you (A light in the Sky)", die mit Piano und Cellos und Violinen untermalt ist und nie vollendet wurde.
Was man im Nachhinein vielleicht einmal ändern sollte. So kam einem die Idee aus diesem Entwurf bzw. diese Zeilen aus der Ballade zu einem Rock'n Herby Song (Voice of a Ghost) zu benutzen.
So vollendete man den Songtext zu dieser Ballade, die nun in einem Rocksong von Rock'n Herby seine Premiere gefunden hat.
---
Music by Rock'n Herby – Lyrics and Vocals by Jomisee
17.12.2022 (Take 4 – Version 2.39.2)
---
---
---
images: public domain cco – music by rock'n herby – lyrics and vocals by jomisee
---