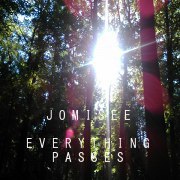 Das Musik-Projekt JOMISEE begann offiziell mit dem Track "TO BE CROSSED IN LOVE (Much As I Love Them)" im Jahre 2012 und dieses sollte dann mit dem Album "Everything Passes" enden…
Der gleichnamige Albumtitel "Everything Passes" sollte dieses letzte Album von Jomisee dann später ausklingen lassen. Um was oder wem geht es in diesem Album.
Es behandelt eigentlich nur ein ganz bestimmtes Thema und das heißt Michaela. Der man so viele Songs gewidmet hat und man vermißt Sie sehr! Doch weiß ich auch, es wird nie wieder so sein wie es einmal war.
Inspiriert durch Sie entstand damals zum Beispiel der erste offizielle Song "To Be Crossed in Love (Much As I Love Them) und es folgen weitere Songs wie "The Reason is You", "Night in the City", "Light in the Darkness", "Sleepless Nights" oder das "Release me" und viele andere Songs.
Doch es wird wohl noch sehr viel Wasser die Elbe herunterfließen bis es einmal fertig ist und dieses Album wird wohl mehr ein persönlichess Nebenprojekt von Jomisee sein.
Und so wird dann im Laufe der Zeit immer mal wieder einen weiterer Song zu diesem Album "Everything Passes" hinzugefügt…
---
YOU'RE ALWAYS IN MY HEAD (MICHAELA)
Gewidmet meiner großen Liebe!
Damals war Sie meine Inspirationsquelle für viele Songs und auch heute noch. Sie war es auch die damals die tolle Idee (?) hatte meine Musik öffentlich zu machen. Sie tauchte oft in vielen Songs von Jomisee auf, auch wenn es meistens nur der Titel zu einem Song war. Sie war immer da bis zu dem Tag als Sie für immer ging! Doch noch immer ist so viel von ihr geblieben…
---
EVERYTHING PASSES
Die Szene zu diesen Stück ist folgende:"Man spielt auf dem Klavier einige Akkorde und das Orchester steigt mit ein und irgendwann im diesen Stück steht man auf und verläßt die Bühne. Dreht sich dabei noch einmal um, verneigt sich dankbar und winkt mit Tränen in den Augen dem Publikum zum letzten mal zu. Das Orchester spielt weiter… bis der letzte Klang der Geigen und der Cellos verklungen ist"…
---
EVERYTHING PASSES
---
EVERYTHING PASSES – VIDEO

---
IT'S JUST EMPTY WITHOUT YOU

---
YOU'RE ALWAYS IN MY HEAD (MICHAELA)

---
TRACKLISTE
IT'S JUST EMPTY WITHOUT YOU (Entwurf 1)
YOU'RE ALWAYS IN MY HEAD (MICHAELA)
EVERYTHING PASSES