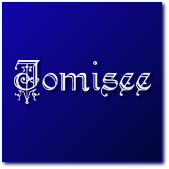 Nach fast zwei Monaten ist der neue Track "Lost the Thread" von Jomisee nun endlich fertig und es ist etwas ganz anderes herausgekommen als es einmal geplant war.
Da es sich solange hinzog mit diesen Track, verlor man auch öfter den Faden und es entwickelte sich immer schwieriger diesen Song fertig zustellen.
Dieses "Lost the Thread" ist wohl mehr was für die amerikanischen Hörer, die ja bei "The Music is Over!" schon entzückt waren, was den Groove betrifft!
Doch wie sich später herausstellen sollte, war man damit im Irrtum was dieses betraf. Der neue Track "Lost the Thread" konnte leider auf SoundClick den bisher erfolgreichen Track "The Music is Over!" nicht das Wasser reichen, was zumindest die Bestplatzierungen dort betreffen.
Nach den Kommentaren und Bewertungen auf MyOwnMusic, wo dort dieses "Lost the Thread" eine Nr.1 in den Rock/Rock Charts und bisher eine Nr.3 in den Rock Charts (aller Genres) geworden ist, scheint dieser Track vom Mixing her gelungen zu sein, was bis dato immer eine kleine Schwäche war beim Fertigstellen eines Tracks von Jomisee.
Eine schwierige Geburt war dieser Song, der sich endlos hinzog und aus der Verlegenheit heraus bastelte man schnell ein Musik-Video aus einigen Bildern (oh weh) zusammen und untermalt mit dem ersten brauchbaren Demo dieses Stückes.
Wo danach die Idee aufkam, vielleicht mache wir mal was mit richtigen laufenden Bildern daraus, ist ja doch ein wenig langweilig anzuschauen!
Dieses Video ist auch nicht im Netz verbreitet worden! So was findet ihr mehr auf der Facebookseite von Jomisee, die fast täglich aktuelles berichtet, neue Demos präsentiert, so wie diverse Interpreten die dort vorgestellt werden.
Noch mehr Blödsinn! Spass muss sein! 😉
Das kleine Interview zum neuen Track von Jomisee!
Frage: Und, ist der neue Track nun endlich fertig? 🙂
Antwort: Ja und nein! We lost the thread! 🙁
Frage: Was? ähh, what? 🙂
Antwort: Wir haben den Faden verloren! 🙁
Frage: Warum? Sorry, why? 🙁
Antwort: Die letzten Wochen forderten einen privat und beruflich zu sehr! 🙁
Frage: Was genau meinen sie damit? 🙂
Antwort: Das gehört hier nicht her, okay! 🙂
Frage: Okay! Okay! 🙁 Noch eine letzte Frage, wie ist das denn mal mit Gesang bei Jomisee, also so richtig singen? 🙂 Nicht immer nur so einen instrumentalen Kram! 🙂 huups! 🙁
Antwort: Wie Bitte? … nun aber raus hier! 🙁