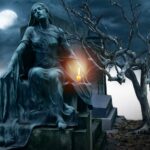 Nach dem Track "It Makes No Sence" kommt nun der nächste mit "Mister Disharmony", der anfangs als Bonus-Track mit "Juno (Original-Version) zum Album "The Dark Rock Of Life" vorgesehen war.
Demnächst kommt noch ein weiterer Track mit dem Titel "Should It Really Be Like That" dazu. Sollte es wirklich so sein? Ja, es sollte so sein! Dieser Track war eigentlich gar nicht mehr vorgesehen für das Album "The Dark Rock Of Life", doch dieser paßt als Abschluß und als Bonus noch gut zum Album.
Was die Zukunft im musikalischen Sinne bei Jomisee bringt kann man nach dem Album "The Dark Rock Of Life" noch nicht sagen. Es wird zwischendurch fleißig weiter experimentiert und man möchte eigentlich etwas anderes machen. Was? Das weiß man noch nicht so genau bzw. möchte man noch nicht preisgeben. Aber schließen wir doch erst einmal dieses Album "The Dark Rock of Life" ab.
---
THE DARK ROCK OF LIFE (2020/21)
AUFNAHMEN: FEBRUAR – AUGUST 2020 / MÄRZ – AUGUST 2021
01. A DARK DAY IN THE LIFE
02. THE TEARS IN THE DARK
03. LETTING GO
04. YOU CAN'T CHANGE YESTERDAY
05. DON'T WORRY
06. AWAY FROM HERE – Nr.12 SoundClick Rock-Charts
07. THE FIELD OF MISERY – Top 5 SoundClick Rock-Charts
08. JUNO (2020 + 2021 – NEW VERSION) – Nr.2 Hit SoundClick Rock-Charts
09. GET ME OUT OF HERE (2020 + 2021) – Nr.1 Hit SoundClick Rock-Charts
10. IT MAKES NO SENSE (2020 + 2021)
11. MR. DISHARMONY (2020 + 2021 – Bonus-Track)
12. SHOULD IT REALLY BE LIKE THAT (2020 + 2021 – Bonus-Track)
13. JUNO (ORIGINAL VERSION) – 2020 – Bonus-Track) – Nr.3 Hit SoundClick Rock-Charts
Diese erste Version von "JUNO" lief sehr erfolgreich auf SoundClick.
cover: public domain cco
---
Mister Disharmony
---
---
Should It Really Be Like That (vorläufige Version)
---
Image: public domain cco – music by jomisee – edit: 14.08.2021
---