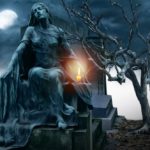 Die Idee kam mir als man einen Artikel über das "Feld des Jammers" gelesen hatte. Der ins englische in "The Field of Misery" benannt wurde. Dieses "Feld des Jammers" bekam seinen traurigen Namen nach dem 5. Mai 1945 als dort mehr als 100.000 deutsche Kriegsgefangene auf offenen Felde ausharren mußten.
Die amerikanische Streitkräfte begannen am 22. April 1945 mit dem Bau dieses Lagers. Vom Guldenbach bis nach Bretzenheim entlang der Straße bis zur Rothlay. Dann hoch bis vor Winzenheim und von dort parallel zur unteren Lagergrenze zurück bis zum Guldenbach, wo ein 3 Meter hoher Stacheldrahtzaun errichtet wurde. Dieses eingezäunte Gelände war ca. 210 ha groß und wurde aufgeteilt in 24 Bereichen.
Mit der Belegung des Lagers wurde dann am 27. April 1945 begonnen und am Tag der Teil-Kapitulation an der Westfront, dem 5. Mai 1945, befanden sich in dem für 45.000 Mann vorgesehenen Lager schon 62.000 deutsche Kriegsgefangene. Die Lagerkapazität wurde dann bis zum 8. Mai 1945 auf 100.000 Mann erhöht und am 13. Mai 1945 waren es dann sogar 103.000 Gefangene. Ab dem 15. Mai 1945 wurden Feldküchen aufgestellt und für die gefangenen Frauen Zelte errichtet. Vom Hunger geschwächt, schutzlos auf dem Erdboden der Witterung ausgesetzt, durch fehlende sanitäre Einrichtungen und mangelhafte medizinische Versorgung kam es so in diesen ersten Monaten zu sehr zahlreichen Sterbefällen.
---
THE FIELDS OF MISERY
Den Krieg überlebt, doch in der
Gefangenschaft dem Tode erlegen
auf dem Felde des Jammers…
Heute erinnert an dieses ehemalige Lager ein Gedenkstein, dass als Mahnmal im Jahre 1966 dort errichtet wurde.
---
---
Textquelle: wikipedia.de – Music by Jomisee – Image: public domain cco
---