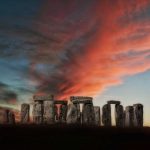 Irgendwann kommt man an einen Punkt; wo es schwierig wird dieses Thema umzusetzen. The Cursus und The Lesser Cursus sind bisher die letzten beiden Tracks und Informationen gibt es leider zu diesem Thema "Cursus" nicht viele. Es sind mehr Spekulationen bzw. Vermutungen, die hier aufgestellt wurden und so kann jeder versuchen seine eigene Geschichte mit seiner eigenen Fantasie freien Lauf zu lassen. Soundtechnisch wurde wieder experimentiert mit Electra X und Dune 3 wie immer nur ein wenig davon, da die Sounds qualitativ nicht mit ElectraX mithalten können.
---
THE LESSER CURSUS – NEUE VERSION 2.42
---
THE LESSER CURSUS
750 m nordwestlich des westlichen Endes des Stonehenge Cursus liegt der Lesser Cursus. Ein 400 m langes und 60 m breites Erdwerk, das nach West-Südwesten und Ost-Nordosten ausgerichtet ist. Obwohl der Lesser Cursus bis ins 20. Jahrhundert sichtbar war, wurde dieser durch das Pflügen seit dem Zweiten Weltkrieg eingeebnet und ist heute nur noch als Erntemarke sichtbar.
Der kleine Cursus steht seit 1925 unter Denkmalschutz und wurde 1983 im Rahmen des Stonehenge Environs Project ausgegraben. Wie bereits vermutet wurde, gab es es kein Ostterminal. Da der Lesser Cursus hier einfach aufhört, so das das östliche Ende offen blieb und somit mehr eine U-Form hat. Das Lesser Cursus Denkmal wurde durch Funde auf ca. 3000 v. Chr. Datiert.
---
Quelle: https://en.wikipedia.org/wiki/Stonehenge_Cursus#The_Lesser_Cursus
Image: public domain cco
---
Updates: 13.07.2019 – 17.07.2019
---