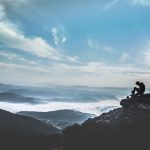 Nach dem Track "Böse Geister" folgt nun der letzte Track für das Album "Es kehrt Ruhe ein?", was ja mit einem Fragezeichen versehen ist.
Könnte nicht oder könnte da doch noch was kommen? Man kann es heute noch nicht sagen, es liegt in den Händen von jemand anderen, um es mal so zu umschreiben. Der Download-Link zum Album wird daher erst später dann erfolgen.
Diese bisher 12 experimentellen Tracks für das Album "Es kehrt Ruhe ein?", ist wie schon zum Album "The Dark Rock of Life" eine Art Test-Album, dass ja damals für dieses in "The Dark Side of Life" benannt wurde. Auch hier wurden Sounds ausprobiert, es wurde getestet, experimentiert, auch wenn manchmal etwas Merkwürdiges an Soundcollagen dabei herauskamen. Einen Nachtrag zum Album ist der Bonus-Track "Normal ist anders", der aber nun wirklich der Letzte Track zu diesem Album ist. Oder vielleicht ja doch nicht!
Somit ist die Phase 1 von meiner Seite aus, so gut wie abgeschlossen und man ist schon am Anfang der Phase 2 angekommen mit dem Projeknamen "Boize – Ein Weites Land". Doch, wie das Album dann später genau benannt wird, ist zur Zeit noch nicht ganz klar.
---
---
image: public domain cco – music by jomisee – 24.09.2022
---