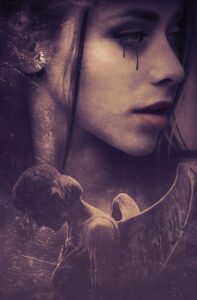 Da zur Zeit bei Jomisee weiterhin eine Pause angesagt ist, was zumindest neue Veröffentlichungen betrifft ist man dennoch nicht untätig und experimentiert zur Zeit ein wenig. Nach dem Umzug ist seit Januar 2021 nun alles wieder aufgebaut und funktionstüchtig. Es ist dennoch immer noch schwierig hier einen Anfang was das Musikmachen betrifft zu finden. So experimentiert man viel wenn es die Zeit zuläßt. Wie Zum Beispiel den Gesang, Lyrics schreiben und ab und an macht man eine Session zwischendurch mit den Instrumenten. Wobei meistens aber die Aufnahme nicht mitläuft.
Und so hat man angefangen sich unter diesem Projekt mit dem Titel "A TIME WITHOUT ANGELS" im Januar und Februar sich mit zwei Songs von Rock'n Herby zu befassen betreffens Lyrics und Gesang für seine gelungenen Instrumentalen Rocknummern. Was mir sehr viel spaß macht und dieses unter dem Titel "Mikrofon-Test" in Videos auf Facebook nur auf meiner Privatseite zur Zeit präsentiert wird. Der erste Song ist das Original "Where The Angels Live", wo man erst mit dem Ersatz-Mikro eher schlecht die erste Versuche machte. Irgendwann im Laufe des Februar kam dann das richtige Mikro zum Einsatz und man begann das ganze noch einmal von vorne mit einer Lyrics und dem Gesang.
Der zweite Song hat leider noch keine Lyrics, doch man nahm einen Text aus einem Songbook von den Beatles und versuchte es schon einmal zu testen. Dieser Song war "I Call Your Name" was interessanterweise sehr gut schon paßte und so hatte man wenigstens schon einmal die einzelnen Textzeilenlängen für den neuen Text zu "ANGELS WINGS THAT TOUCH YOU" von Rock'n Herby. Aus rechtlichen Gründen wird natürlich dieser erste Versuch mit dem Songtext von "I Call Your Name" hier auf der Seite von Jomisee nicht zu hören sein.
---
ROCK' HERBY
ROCK'N HERBY – WHERE THE ANGELS LIVE
ROCK'N HERBY – ANGELS WINGS THAT TOUCH YOU
---
SESSION 1 UND 2
MIT DEM ERSATZ-MIKRO
SESSION 1 – 10. Januar 2021 (Video-Session 1)
DIE TECHNIK WILL NOCH NICHT SO WIE ICH!
Neues gibt es ja erst einmal nicht. Doch untätig ist man wiederum auch nicht. Man schreibt einen Songtext, besser gesagt es werden wohl zwei sein. Und man kuschelt zur Zeit noch mit dem Mikro, dass leider noch nicht so funktioniert. Aus Spaß habe ich mir einen Song von jemanden bestimmten ausgesucht. Nächste Woche so der Gedanke, soll es dann mal richtig losgehen mit den Aufnahmen zu diesem Song…
---
SESSION 2 – 19. Januar 2021 (Video-Session 2)
WHERE THE ANGELS LIVE (BY ROCK'N HERBY)
Die erste Session mit einer Lyrics, aber noch leise ins Ersatz-Mikro gekratzt und geflüstert! Hier muss der Text auch erst einmal passen und das Feeling muß stimmen. Zwischendurch basteln wir weiter an dem Gesang herum. Auf jedenfall macht es mir Spaß und das ist für mich die Hauptsache. Ernst kann es erst werden, wenn alles gut paßt und mein richtiges Mikro dann endlich mal zum Einsatz kommt. Im Hintergrund des Videos ist meine neue Musikecke ein wenig zu sehen. Wird langsam was. auch wenn hier die Instrumente noch schweigen.
---
SESSION 3 – 24. Januar 2021 – 31. Januar 2021
---
SESSION 4 – 7. Februar 2021
WHERE THE ANGELS LIVE – MUSIC BY ROCK'N HERBY – LYRICS & LEAD VOCALS BY JOMISEE
SESSION 4
Samstag nachmittag war es wieder soweit. Es geht voran und das Mikro mußte diesesmal nicht so viel leiden wie beim letzten mal. Aber zwischen 0:47 min. und der 1:15 min ist irgendwie noch keine richtige Lösung in Sicht. Sonst paßt es ja schon ganz gut!
---