---
STONEHENGE – MORE STORIES
THE STONES OF AVEBURY
---
THE STONES OF AVEBURY
Auch dieses "The Stones of Avebury" ist wie schon auch das "The Amesbury Archer" und das "Salisbury Plain" ein Track der nicht direkt zu dieser zusammenhängende Geschichte um Stonehenge gehört.
THE STONES OF AVEBURY – Version 14 – 01.06.2019
---
THE STONES OF AVEBURY
---
Avebury ist ein Denkmal aus der Jungsteinzeit, das drei Steinkreise um das Dorf Avebury in Wiltshire im Südwesten Englands enthält. Es ist eine der bekanntesten prähistorischen Stätten in Großbritannien und beherbergt den größten Megalithsteinkreis der Welt. Es ist sowohl eine Touristenattraktion als auch ein Ort von religiöser Bedeutung für zeitgenössische Heiden.
Das über mehrere hundert Jahre im dritten Jahrtausend v. Chr. Errichtete Denkmal aus der Jungsteinzeit besteht aus einer großen Henge mit einem großen äußeren Steinkreis und zwei separaten kleineren Steinkreisen im Inneren das Zentrum des Denkmals. Sein ursprünglicher Zweck ist unbekannt, obwohl Archäologen glauben, dass er höchstwahrscheinlich für irgendeine Form von Ritual oder Zeremonie verwendet wurde. Das Avebury-Denkmal ist Teil einer größeren prähistorischen Landschaft mit mehreren älteren Denkmälern in der Nähe, darunter West Kennet Long Barrow, Windmill Hill und Silbury Hill.
---
image: public domain coo – quelle: https://en.wikipedia.org/wiki/Avebury
---
STONEHENGE – MORE STORIES
---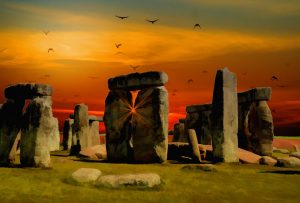 THE SECOND ALBUM
---
STONEHENGE – MORE STORIES
---
THE SOUNDTRACKS
---
01. THE STONES OF AVEBURY**
02. SALISBURY PLAIN (EXTENDED VERSION 6.2)**
03. THE AMESBURY ARCHER**
---
01. THE STONES OF AVEBURY – VERSION 14.0 – 01.06.2019
---
02. SALISBURY PLAIN (EXTENTED VERSION 6.2) – 29.05.2019
---
03. THE AMESBURY ARCHER – 05.05.2019
---