BLUE(STONE)HENGE (A LAND OF THE DEAD)
---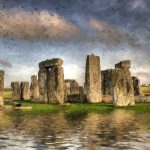 DER NACHFOLGE-TRACK VON STONEHENGE AVENUE
BLUE(STONE)HENGE (A LAND OF THE DEAD)
STONEHENGE-ALBUM
Mystisch und fast schwebend, mit einem Hauch von Dramatik kommt der Track daher. Wenn man sich darauf einlässt, kann man wirklich abschalten und sämtliche Probleme hinter sich lassen. Ein Background, der genial gemacht ist. Die Bilder entstehen vor dem geistigen Auge wie von selbst. Musik zum Träumen mit eindrucksvoller Songbeschreibung.
---
BLUESTONEHENGE (A LAND OF THE DEAD)
---
DER AUFBAU VON BLUESTONEHENGE (BLUEHENGE)
Im Gegensatz zu Stonehenge, das nach der Sonne ausgerichtet ist, fanden sich in Bluehenge auch Bluestonehenge genannt weder Anzeichen für eine bestimmte Orientierung, noch für einen Eingang. Die Steine waren von einem Wall mit einen äußerem Graben umgeben. Diese Anlage liegt am Ende der "Stonehenge Avenue", die Stonehenge mit dem Fluss Avon verband.
---
DIE INTERPRETATION VON BLUESTONEHENGE (BLUEHENGE)
Diese Anlage soll vor 5000 Jahren errichtet worden sein, etwa zur gleichen Zeit wie Stonehenge. Es gibt Anzeichen dafür, dass die Steine im Bluehenge abgebaut und nach Stonehenge transportiert wurden.
Funde wie Keramik, Tierknochen, Speisereste und Werkzeuge aus Feuerstein als Anzeichen für eine Nutzung als Siedlungsplatz fehlen. Die Löcher, die die Steine hinterlassen haben, waren mit Holzkohle gefüllt, nach Parker Pearson ein Hinweis auf Feuerbestattungen.
Möglicherweise war Bluehenge/Bluestonehenge eine Station auf dem Weg flussabwärts aus der Siedlung Durrington Walls, dem "Reich der Lebenden", über Woodhenge in das von den Steinkreisen markierte "Reich der Toten". Demnach verbrannten die Menschen der Jungsteinzeit ihre Toten in Bluehenge und brachten die Asche anschließend zu ihrer letzten Ruhestätte bei Stonehenge.
Die Veröffentlichung genauerer Forschungsergebnisse fand in der Januar/Februar-Ausgabe 2010 des Magazins British archaeology statt. Ein Geweihrest, der auf der Rampe einer der Steingruben gefunden wurde, konnte auf 2469–2286 v. Chr. datiert werden. Er ist nach der Entfernung des Steins weggeworfen worden. Es ist unbekannt, ob die Geweihhacke verwendet wurde, um den Stein zu entfernen, oder ob sie etwas später zum Ausheben eines flachen Grabens in der Spitze des Kreises benutzt wurde. Diese Radiokarbondatierung hat jedoch nachgewiesen, dass ein Stein, und wahrscheinlich der ganze Kreis, um oder vor diesem Zeitpunkt entfernt wurde.
Diese Henge liegt am Fluss Avon in West Amesbury. Unmittelbar daneben befindet sich die Avenue, ein linearer Graben- und Uferweg, der nach Stonehenge führt. Mike Parker Pearson hat vorgeschlagen, dass der Ort für zeremonielle Zwecke verwendet worden sein könnte – möglicherweise als Haltepunkt entlang einer Verbindungsstraße zwischen Durrington Walls und Stonehenge.
Es wird vermutet, dass es eine zeremonielle Route von einem Lebensbereich in Durrington Walls durch Bluestonehenge und entlang der "Stonehenge Avenue" war, um an den Ort ihrer letzten Ruhestätte in Stonehenge zu gelangen. Diese letzte Ruhestätte der Stonehenge-Theorie kann durch die zahlreichen Verbrennungsbestattungen (über 200) gestützt werden, die während der Ausgrabungsarbeiten um Stonehenge aufgedeckt wurden. Die Analyse dieser Überreste lässt die Forscher auch vermuten, dass es sich um eine Zeremonie für die Reichen in der Region oder für die königliche Abstammung handelte oder sogar für diejenigen, die den Bau von Stonehenge mitinitiierten.
Es wurde angenommen, dass es sich bei dieser ausgewählten Gruppe von Personen um männliche Erwachsene handelte, die 25 bis 40 Jahre alt waren und recht gesund wirkten. Die bisherigen Erfahrungen von Mike Parker Pearson mit einem Kollegen aus Madagaskar haben auch seine Theorie geprägt. Er ist der Ansicht, dass die Wahl des Steinmaterials für Stonehenge von Bedeutung ist, da in früheren Zivilisationen die Grabmäler ihrer Vorfahren oft nur aus Stein gebaut wurden, während das verderbliche Material, wie das Holz für die Holzkreise der Durrington Walls, den Lebenden vorbehalten war.
Der Archäologe Mike Parker Pearson glaubt, dass Durrington Walls ein "Land der Lebenden" gewesen sein könnte, während Stonehenge (zu dieser Zeit der größte bekannte Friedhof Großbritanniens eine "Domäne der Toten" war.
Im Jahr 2008 fand die Ausgrabung des Stonehenge Riverside Project in Stonehenge selbst Beweise dafür, dass die erste Phase von Stonehenge (3000-2935 v. Chr.) Aus einem Blausteinenkreis bestand, der sich innerhalb des Grabens und der Bank befand. Diese Steinfassungen sind die 56 Aubrey-Löcher, die den äußersten Ring bilden. Um 2500 v. Chr. Wurden die Bluestones im Zentrum von Stonehenge umgestellt und mit etwa 80 Steinen nummeriert.
Woher kamen die zusätzlichen 24 Steine?
Wir glauben, wir kennen die Antwort!
---
Quellen: https://en.wikipedia.org/wiki/Bluestonehenge
Images: puplic domain cco
---
STONEHENGE
---
01. STRANGE FOG BEFORE THE SUNRISE IN WILTSHIRE
---
02. THE BLICK MEAD
---
03. THE STONEHENGE AVENUE
---
04. BLUESTONE/BLUESTONEHENGE (A LAND OF THE DEAD)
---
STONEHENGE – MORE STORIES
DURRINGTON WALLS II (AREA OF LIFE)
SALISBURY PLAIN
THE AMESBURY ARCHER
ES KÖNNTE SEIN DAS DER EINE ODER ANDERE TRACK DIESER BEIDEN ALBEN NOCH EINMAL NEU BZW. ÜBERARBEITET WIRD.
DOCH IMMOMENT LASSEN WIR ES EINFACH MAL SO LAUFEN…
Der nächste Track wird das "Durrington Walls I (Area of Life) sein, wo man ja bei der Version "Durrington Walls II (Area of Life) den Arp mal wieder angeschmissen hatte und so dann kein stoppen in Sicht war, wenn dieser erst einmal läuft…