Tag archives for Soundtrack - Page 3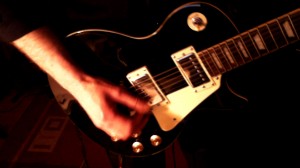 Es war an einem Wochenende, da liefen sehr gute Dokus im TV über die Planeten im unseren Sonnensystem, wo mich besonders der Planet Mars in seinen Bann zog!
So wurde dieser Instrumental-Song eine Reise zum Mars mit einer musikalischen Umrundung dieses Planeten! Daraus entstand der Titel "Flight About Mars" (Flug über den Mars).
Das ganze ist No-Keyboard-Sound, sondern mit speziellen Effekten über die E-Gitarre gemacht, sowie bei den meisten anderen Tracks von Jomisee!
Ab dem Tape 11 von "Flight About Mars" war dieser in einer langsamen Version und die auch später genommen wurde und bei SoundCloud in einer Länge von 6 min. und 25 sek. hochgeladen wurde!
Bei ReverbNation wurde dieser Track dann wieder gelöscht, da die 8mb Grenze überschritten wurde und der Sound bei einer niedrigeren Klangqualität einfach verpuffte, so das dieser Track, der auch mit technischen Knacken ist, seinen Hörreiz enorm eingebüßt hatte!
Die Versionen zur Zeit: The Long Version of "Flight About Mars", zu finden auf Fandalism und SoundCloud
Nach dem "Flight About Mars gibt es eine Fortsetzung! Der Titel heißt "Kasei Vallis (The Valley of the Mars)" und ist zur Zeit der Renner auf Jomisee's Seite auf Fandalism!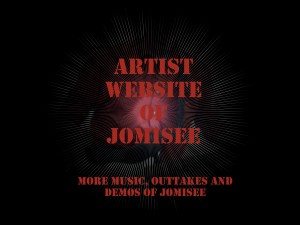 Soundtrack und Filmmusik Atmosphäre, die düster, dramatisch, aggresiv, schrill und spannend zu gleich ist, dass ist "Sleepless Nights" geworden!
Nach unseren Track "Sleepless Nights", der schon 4:57 Minuten lang geworden ist und positve Kommentare erhielt, wie: "Sehr tolle Sounds, coole Gitarren, schöner Rhythmus und wenn man das Ganze als Soundtrack betrachtet, kann man nur sagen eine sehr tolle Atmosphäre!"
So enstand die Idee einer Trigolie aus drei Parts daraus zu machen und somit geht es nun weiter in die zweite Runde dieser sogenannten Trigolie, die wie bekannt ist, immer aus drei Teilen besteht.
Dieser "Part 2" von "Sleepless Nights" beschreibt musikalisch die schrecklichen Träume, die einen aus den Schlaf reißen könnten! Somit ist dieser zweite Part noch düsterer geworden und wurde auch mit einigen ruhigen Stellen in "Awful Dreams" versehen, die sich dann weiter fortsetzt wird in einer düsteren Atmosphäre, mit teilweisen aggresiven Gitarrensound!
Leider hat dieser "Part 2" nicht, was bei "Sleepless Nights" schon sehr gut zu hören war, den Einsatz von vielen E-Gitarren-Sounds, wo bei "Awful Dreams" eher absichtlich gespart wurde und ein wenig zu lang geworden ist mit seinen 6:17 Minuten!
Am Ende dieses Stückes von "Awful Dreams", wird dieser mit einen aggressiven und schweren Gitarren-Sound ausgeblendet, der den dritten und letzten Part von "Sleepless Nights" einleitet!
Dieser ist schon in Arbeit, doch es fällt ein wenig schwer, aus diesem dunklen düsteren Mittelpart von "Awful Dreams – Sleepless Nights Part 2" wieder heraus zukommen und dieses ist eine Herausforderung, die wir uns natürlich angenommen haben!
Einen Titel für den dritten Part, gibt es auch schon, er wird wahrscheinlich "The Reason" oder "You're The Reason" heißen! Doch dieses könnte sich noch ändern, wo wir aber erst einmal das Ergebnis, dieses letzten Parts abwarten werden!
Jomisee: MyOwnMusic