Tag archives for Amesbury
---
THE AMESBURY ARCHER

---
DIESER RITT NACH STONEHENGE DES BOGENSCHÜTZEN VON AMESBURY KÖNNTE WOHL EIN SEHR LANGER UND BESCHWERLICHER, SOWIE EIN SEHR SCHMERZHAFTER GEWESEN SEIN. WENN MAN BEDENKT WO DIESER EIGENTLICH GANZ HERKAM!
---
THE AMESBURY ARCHER
---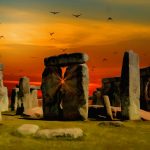 Man entdeckte zufällig bei Bauarbeiten in Amesbury einen kleinen Friedhof aus der römischen Zeit. An einer Stelle entdeckte man jedoch zwei weitere Gräber, deren Grabbeigaben auf eine etwa 2500 Jahre ältere Bestattung hinwiesen. Einer von ihnen war der später sogenannte Bogenschütze von Amesbury.
Seine Bestattung stammt aus der Zeit von etwa 2380 bis 2290 vor Christus und somit aus der Epoche, in der Stonehenge entstand. Der Mann der bei seinem Tod etwa 35 bis 45 Jahre alt gewesen sein soll stammte aus der Alpenregion (Schweiz, Österreich oder Süddeutschland), wie die Analysen seines Zahnschmelzes ergeben haben. Bei einer weiteren Untersuchung des Skeletts wurde festgestellt, dass der Mann gehbehindert war und eine schwere Verletzung am linken Knie hatte. Dieses Knie war zertrümmert und seine Kniescheibe fehlte und der Knochen wies entzündliche Stellen auf. Außerdem hatte er einen schmerzhaften Kieferabszess.
Die Leiche wurde mit ungewöhnlich vielen und reichen Grabbeigaben bestattet. Bisher wurde kein bronzezeitliches Grab mit so vielen Beigaben (mehr als hundert) entdeckt. Das sind zehnmal so viele, wie üblicherweise in solchen Gräbern gefunden wurden. Daher wurde der Tote in den englischen Medien zunächst als "König von Stonehenge" bezeichnet.
Bei den Grabbeigaben handelte es sich u. a. um mehrere Pfeilspitzen und zwei steinerne Armschutzplatten. Aufgrund dieser Beigaben wurde er der Bogenschütze von Amesbury genannt.
Weiterhin waren dem Verstorbenen Kupfermesser beigegeben. Von diesen qualitativ guten und geschmiedeten Messern, die damals sehr selten waren, lagen gleich drei dem Leichnam bei. Die Kupfermesser stammen aus Spanien und Frankreich.
Zusätzlich lagen in dem Grab ein Paar Goldohrringe und goldene Haarspangen. Gold war damals sehr selten und kostbar. Diese Schmuckstücke sind die ältesten Goldgegenstände, die bisher in Großbritannien gefunden wurden. In reich verzierten Tonkrügen wurde dem Verstorbenen Nahrung mit auf den Weg gegeben.
---
[quelle: https://en.wikipedia.org/wiki/Amesbury_Archer]
---
---
THE BLICK MEAD IN AMESBURY



---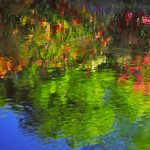 Doch gehen wir nur ein paar Kilometer zurück in Richtung Osten. Zu einem Ort namens Amesbury, wo hier vielleicht alles am Blick Mead in der Nähe des Avon River begonnen haben könnte oder gar ein fester Bestandteil dieser Geschichte war, was aber bisher nicht bewiesen ist. Die Nähe der Quelle zu dieser Kultstätte hat Spekulationen aufkommen lassen, dass Blick Mead die ursprüngliche Attraktion war, welche die Menschen in diese Gegend lockte. Denn das Quellwasser weist ganzjährig eine konstante Temperatur von etwa 11 °C auf, so dass diese Quelle niemals einfriert.
Neben diesen attraktiven Siedlungsplatz an einer warmen Quelle dürften die frühen Siedler von einem außergewöhnlichen Natur-Phänomen angezogen worden sein. Im Frühling vermehrt sich die seltene Alge Hildenbrandia rivularis in dieser Quelle. Die Steine aus dem Quelltopf verfärben sich zu dieser Jahreszeit an der Luft innerhalb von Stunden leuchtend rot. Es ist zu vermuten, dass dieser Umstand von den frühen Siedlern als magisch angesehen wurde…
[images: public domain cco – quelle: https://de.wikipedia.org/wiki/Blick_Mead]
THE BLICK MEAD IN AMESBURY
(Version 1.21 – 22.04.2019) – EINLEITUNG – 2 (At the end with a flute!)
---