---
DURRINGTON WALLS (A LAND OF LIVING)
---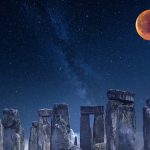 Nach dem Track "Blue(stone)henge (A Land of the Dead) kommt nun das "Durrington Walls I (A Land of Living)", wo es ja unter Stonehenge – More Stories eine Version (umbenannt in Avebury) gab die mit einem Arp versehen war und so nicht ganz dann mehr passte als Nachfolge-Track von "Blue(stone)henge (A Land of the Dead)". Oder anders gesagt, auch hier war man instrumental etwas vom Wege abgekommen.
Hier der Versuch einer ambienten Version von "Durrington Walls" und mit einer ganz kleinen Premiere was das E-Gitarrenspielen betrifft. Das hier im diesen Stück einen sehr kurzen Auftritt hat!
---
VERSION 10
INSTRUMENTE: KEYBOARDS, E-GITARRE mit 8 und einen halben funktionsfähigen Finger.
---
DURRINGTON WALLS
(Repräsentierte das Leben und das Land der Lebenden)
Eine Theorie besagt das die Siedlung Durrington Walls der Bereich des Lebens war. Während das Reich der Toten am Avon River in der Nähe der Stonehenge Avenue begann und dann bis zu Stonehenge ging wo hier die Toten dann beerdigt wurden.
Durrington Walls war nach heutigem Forschungsstand im 4. Jahrtausend v. Chr. die größte steinzeitliche Siedlung Nordeuropas und beinhaltet eine der größten jemals in Europa entdeckten Megalithreihen. Die Anlage zählt zu den so genannten Henge-Monumenten. Das Class II Henge (nach Stuart Piggott) besteht aus einem ovalen Wall, der einem Graben vorgelagert ist. Das etwa 10 Hektar große Oval besitzt Eingänge im Südosten und Nordwesten. Inzwischen vermuten die Archäologen, dass mindestens 300 Gebäude auf diesem Areal standen. Die Anlage wurde zur Zeit der neolithischen Grooved ware errichtet und genutzt.
Durrington Walls liegt an einer Schleife des Avon zwischen Amesbury und Durrington auf der Salisbury Plain. Das Erdwerk liegt in unmittelbarer Nachbarschaft zu Woodhenge (mehr in musikalischer Form über Woodhenge demnächst).
Vince Gaffney, ein Archäologe der Universität Birmingham, meinte im Rahmen des Forschungsprojekts Stonehenge Hidden Landscape bei Radaruntersuchungen der Anlage eine Steinsetzung zu entdecken, die unter dem Wall begraben ist. Er ging von insgesamt 90 Steinen aus, von denen 30 bis zu einer Größe von 4,5 m noch in der Anlage liegen, während sich die übrigen durch Fundamentgruben oder Bruchstücke nachweisen lassen.
Bei neueren Forschungen wurden jedoch angeblich circa 200 Steine festgestellt. Die Steine wurden vor etwa 4500 Jahren aufgestellt und bildeten das südliche Ende des von den Forschern beschriebenen rituellen Ortes. Bei einer Umgestaltung durch die frühzeitlichen Erbauer sollen die Steine umgelegt worden sein. Dann wurde die Reihe unter einem nur annähernd geraden Wall an der Südseite der ansonsten kreisrunden Anlage begraben. Die Steinreihe würde damit zu den größten Megalithbauten gehören, die in Großbritannien entdeckt wurden.
image: public domain coo – quelle: https://en.wikipedia.org/wiki/Durrington_Walls
---
STONEHENGE
---
01. STRANGE FOG BEFORE THE SUNRISE IN WILTSHIRE
---
02. THE BLICK MEAD
---
03. THE STONEHENGE AVENUE
---
04. BLUESTONE/BLUESTONEHENGE (A LAND OF THE DEAD)
---
05. DURRINGTON WALLS (A LAND OF LIVING)
---
STONEHENGE – MORE STORIES
---
AVEBURY
---
SALISBURY PLAIN
---
THE AMESBURY ARCHER
---
ES KÖNNTE SEIN DAS DER EINE ODER ANDERE TRACK DIESER BEIDEN ALBEN NOCH EINMAL NEU BZW. ÜBERARBEITET WIRD. DOCH IMMOMENT LASSEN WIR ES EINFACH MAL SO LAUFEN…