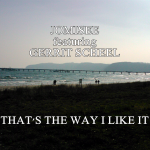 THAT'S THE WAY I LIKE IT – Featuring GERRIT SCHEEL
EIN LEBEN IN EINER BESSEREN WELT, IN FRIEDEN, IN LIEBE, WO DIE TRÄUME WAR WERDEN UND ALLES DAS WAS MAN SCHON LANGE VERMISST HAT…
DOCH DIE REALITÄT SIEHT LEIDER ANDERS AUS!
DAS SOLL DIESER SONG "THAT'S THE WAY I LIKE IT" AUSDRÜCKEN!
Ein nicht vollendeter Song aus dem Jahre 2015, der noch einmal aus dem Archiv geholt wurde! Und Gerrit Scheel den Versuch wagte diesen Song zu vollenden. Hier ist die Version 5 von "THAT'S THE WAY (I LIKE IT)" aus dem Jahre 2016 mit Gerrit Scheel! Danke Gerrit!
Music by Jomisee & Gerrit Scheel
Arrangement by Jomisee 2015 & Gerrit Scheel 2016
Lead-Vocals: Jomisee
E-Bass: Jomisee & Gerrit Scheel
Keyboards: Jomisee & Gerrit Scheel
Drums Mixing: Jomisee & Gerrit Scheel
Lyrics by Jomisee
E-Guitars: Gerrit Scheel
Mixed by Gerrit Scheel
Juli 2016