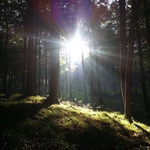 Seit drei Jahren gibt es diesen Ambient Wave auf dem Portal MyOwnMusic. Und Jomisee hatte sich bisher immer gut drücken können. Seih es unter Tipping Point of Music oder Jomisee. Doch dieses Jahr wollte man mitmachen, da man ja Verstärkung hatte. Doch der erste Track "A Crackle in the Light" wurde schnell verworfen. Dieser hat jetzt auch nichts mit dieser Version zu tun. Doch es kommt noch schlimmer, die Zeit lief einen davon. So entschied man sich einige Parts aus den schon fast fertigen Track "The Waves of Fortune" zu nehmen und nannte es dann "The Waves of Fortune Part 1 – Two in One" kurz vor dem Ambient Wave 2015. So klang es dann auch, zwei Tracks in einem, mit einen Break in der Mitte drin. Man hatte keine Zeit mehr um da noch was zu retten.
So waren die Kritiken dann auch geteilter Meinung. Während des Ambient Wave fing man dann an diesen Track erst einmal zu kürzen und dann weiter auszubauen. Die gekürzte Version wurde dann in "Two in One" umbenannt. Echt stressig und da kann dann ja auch nichts bei herauskommen. Das ging dann soweit, das man man diesen Track nochmals umbenannte, wie dieser schon ganz am Anfang hieß, nehmlich "A Crackle in the Light" und so bastelte man an diesen Track noch tagelang herum mit dem Ergebnis, naja das war es wohl auch nicht.
Es ging einfach nichts auf die schnelle, aber das "A Crackle in the Light" lief ganz gut in den Chillout bzw. Ambient Charts auf MyOwnMusic und man könnte es noch weiter ausbauen! Doch ehrlich gesagt, wenn dann vielleicht später einmal.
Irgendwie war man dann doch etwas sauer und enttäuscht, da es nicht sein sollte wie man es sich vorgestellt hatte!
Man schrieb in der Beschreibung zu diesem Track dann folgendes!
18.11.2015 – Das "Two in One" wurde heute in "A Crackle in the Light" umbenannt und hat auch als Ambient Wave 2015 Track heute ausgedient! Da dieser Track nichts mehr mit der Urfassung und seiner Bedeutung zu tun hat. Dieser Track bekam auch heute ein neues Cover! Dennoch hat es Spaß gemacht dabei zu sein auch wenn man unter Zeitdruck war und man erst später nach dem Ambient Wave 2015 versucht haben einen besseren Track daraus zu machen. Wir danken Allen, die in diesen Track reingehört und ihn bewertet haben!
(M. Seehaase & J. Tiemann)
A CRACKLE IN THE LIGHT