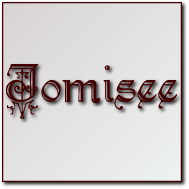 Hier die Top 10 der meistgespielten Tracks von Jomisee auf MyOwnMusic! Unangefochten findet man das "Sleepless Nights" auf der Nr.1!
Um so überraschender ist das "The Scream of the Lost Souls" auf der Nr.2, was eigentlich beinahe gar nicht veröffentlicht wäre, da es damals einfach zu schrill war und vom Stil her nicht so recht zu Jomisee paßte. Doch heute wissen wir, das ist schon normal für Jomisee so etwas entstehen zu lassen.
Auf der Nr.3 folgt "The Reason is You (Sleepless Nights Part 3)", wobei man hier noch erwähnen muß, dass das "Awful Dreams (Sleepless Nights Part 2)" nicht so gut gelungen war.
Dann folgen zwei Tracks aus dem Album "Life on Mars" mit "Kasei Vallis" und "Flight Over The Mars", die immer wieder dort regelmäßig in den Top 100 der Rock Charts auftauchen.
Das "Light of the Darkness" entstand in der Hoffnung das es mit einem ganz bestimmten Menschen klappen würde um eine feste und große Liebe enstehen zu lassen! Okay! Heute kann ich sagen, war besser so das es nichts geworden ist mit der sogenannten großen Liebe. Es war später mehr ein Seelenschmerz (The Scream of the Lost Souls) der da erzeugt wurde und keine Liebe!
Auch das "Zone of Uncertainty" gehört zu diesem Thema und wie man vielleicht weiß behandeln viele Tracks aus dem ersten Album "JOMISEE" und auch aus dem Album "RELENTLESS", zumindestens einige Tracks diese bestimmte Person. Ja, gerade das "To Be Crossed In Love (Much As I Love Them)" der erste offizielle Track von Jomisee ist auch dieser Person gewidmet und ja auch sie war es auch die mir empfahl das ich mit meiner Musik an die Öffentlichkeit gehen sollte.
Doch eines ist sicher! In dieser Zeit wo man mit dieser verrückten Person zusammen war entstanden ganz besondere Tracks. So wie auch das "Night in the City" und dann haben wir da noch auf der Nr.10 den ambienten Track "Bells Of Heaven", aber dieser hat mit ihr nun gar nichts zu tun! Zu dieser Zeit hatte ich einen sehr lauten Tinitus im Ohr und was ist besser als einen schönen ambienten schwebenden Klangteppich zu erzeugen. Herrlich!
Top 10
Sleepless Nights
The Scream of the Lost Souls
The Reason is You (Sleepless Nights Part 3)
Kasei Vallis (The Valley Of The Mars)
Flight Over The Mars
Light of the Darkness
Zone of Uncertainty
To Be Crossed In Love (Much As I Love Them)
Night in the City
Bells Of Heaven