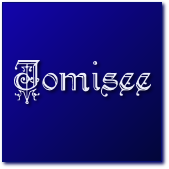 Bei dem neuen Track "We See Us Nevermore" von Jomisee geht es gut voran! Dieser Track liegt zur Zeit bei 5:36 min. und entwickelt sich stetig weiter!
Doch dieses "We See Us Nevermore" wird wohl erst im Januar 2014 fertig sein! Immoment klingt dieser Track, wo man den Grundfaden zu diesem Track schon gesponnen hat und ein bisschen darüber hinaus!
Es hört sich nach Psychedelic Rock oder Progressiv Rock an! Nein! Es hört sich an wie Jomisee!
Wieder mit düsteren Elementen im Background, mit schrillen und harten Gitarrensound ala "The Scream Of The Lost Souls" und "Zone of Uncertainty", dazu kommt Piano und Synthesizer ala "Phobos", so könnte man es beschreiben!
Die Story zum neuen Track!
Eine Melodie auf einem Piano, die im musikalische Sinne eine ganz besondere Freundschaft zu jemanden darstellt, die aber im Laufe der Zeit kaputt gegangen ist! Den man schon sehr lange nicht mehr gesehen hat und doch gerne einmal wiedersehen möchte!
Doch es kommen immer wieder Schweißel auf, da es doch den Anschein hat, das es keinen Sinn mehr macht, diese Freundschaft eine zweite Chance zu geben und so kommt dann immer wieder der Gedanke auf, man läßt es so wie es ist.
Das sich nicht Wiedersehen, ist im musikalischen Sinne im diesen neuen Track, der schrille und harte E-Gitaren Sound mit dem treibenen Bass.
Das dafür, ist das Piano im musikalischen Sinne, doch gelingt es der Piano – Melodie nicht, sich im diesen Track durchzusetzen!
So ist dieser Track, die Antwort auf diese Frage!
WE SEE US NEVERMORE!