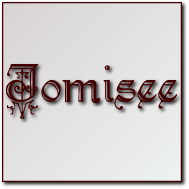 Der neue Instrumental-Titel "Sleepless Nights" kommt nicht von ungefähr, denn seit einiger Zeit habe ich Probleme mit dem Schlaf, so das man sehr früh morgens wach ist und einfach nicht mehr einschlafen kann. Es kommt wohl von den letzten Monaten, wo ich viel Kopfarbeit erledigen mußte und mehrere Entscheidungen für meine Zukunft treffen mußte.
In den letzten Monaten war meine Konzentration völlig am Boden angekommen und es gelang mir sogar nicht mehr meinen Job richtig zu machen und auch meine Hobbys, wie Musik zu machen und das Schreiben von Artikel über die Musik blieben total auf der Strecke in dieser Zeit! Das schreiben fällt mir immer noch schwer und so ist zur Zeit die eigene Musik zu machen vorrangig, da ich dabei am besten abschalten kann!
Die letzten drei Tracks "Sleepless Nights", "Night in the City" und "Origin of the End" sind schon irgendwie anders geworden und vielleicht hat Jomisee seinen Stil gefunden, die Frage ist nur gefällt es einen?
Eine kleine Fangemeinde gibt es auch schon, wo auch gute Tipps gerne von mir angenommen wurden! Fazit: Jomisee muß aus den Songs mehr machen, eine gute Idee reicht da nicht aus und es muss noch besser umgesetzt werden das Ganze, was die Kommentare, die unten zu lesen sind auch bestätigen!
Kommentar zu "Origin of the End"
Die Grundidee ist schon gut. Mir ist das Stück aber ein wenig zu eintönig geraten, hier kann man wunderbar verschiedene Parts einbauen, die das Ganze etwas auflockern. Vorschlag: mal das Schlagzeug für kurze Zeit rausnehmen und kleine Veränderungen im Takt einbauen, Töne des Hintergrunds ändern…
Bei 4:18 erinnert es mich etwas an den Mittelpart von Floyd´s "Echoes".
Gefällt mir gut, leider noch nicht mehr, aber kann ja noch werden… 
Gesamt: 4 von 5 Sterne
Idee: 4 von 5 Sterne
Arrangement: 4 von 5 Sterne
Handwerk: 4 von 5 Sterne
Mix/Master: 5 von 5 Sterne
Hitpotential: 3 von 5 Sterne
Kommentar zu "Without You"
Das Intro ist toll! Das Schlagzeug (mindestens die Snare) hängt ein wenig… klingt merkwürdig…
Cooler Gitarrensound! Jetzt müssen die Effekte nur noch an den Takt angepasst werden, haut nicht so ganz hin.
Hier fehlt mir etwas, dass die gelenkten Bahnen verlässt und das Ganze auflockert. Das Gefühl hab´ ich schon bei einem anderen Lied gehabt. 😉
Auch hier ist die Grundidee super! Jetzt fehlt nur noch etwas wie ein Lied…
Gesamt: 4 von 5 Sterne
Idee: 4 von 5 Sterne
Arrangement: 4 von 5 Sterne
Handwerk: 4 von 5 Sterne
Mix/Master: 4 von 5 Sterne
Hitpotential: 3 von 5 Sterne
Jomisee ist erst am Anfang und es kann eigentlich nur besser werden! Wenn man bedenkt ich arbeite höchsten 3 – 4 Tage mit ca. 1 bis 2 Stunden pro Tag an einem Track, dann muss man sich halt wohl etwas mehr Zeit in der Zukunft nehmen! 😉