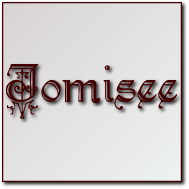 Das erste Musik-Video von Jomisee mit dem Titel "Wednesday Never Comes", was zur Zeit der letzte neue Track von Jomisee ist!
Doch der Track "To Be Crossed In Love (Much As I Love Them)", ist das Ergebnis einer Inspiration über eine unglückliche Liebe zu jemanden ganz bestimmten!
Dieser Track konnte in den Charts von ReverbNation im Bereich Instrumental in Deutschland bis auf die #5 ansteigen und Lokal in Hamburg schaffte dieser Track im Bereich Instrumental eine #2 dort in diesen Charts!
Übrigens, dieser unglücklich Verliebte bin ich und so setzte ich die Gedanken an ihr, dieses dann musikalisch um, so das ein trauriger, aber schöner Track enstanden ist!
Das Projekt Jomisee begann im diesen Jahr im Mai, wo ich viel Zeit hatte mich mit meiner Musik zu beschäftigen! Ich nenne es auch einfach Kopf freimachen und man ahnte es noch nicht, das da doch einiges respektables dabei heraus kommen würde!
Nach zwei Monaten sind viele Demos entstanden, doch der größte Teil war leider nichts.
Der Grund waren und sind Probleme mit der Technik, Störgeräusche die sich durch Knacken bei den Aufnahmen sich bemerkbar machten.
Einige Aufnahmen habe ich auf ReverbNation upgeloaded, die man sich dort anhören kann! Es sind aber keine Meisterwerke. Aber Übung macht ja bekanntlich den Meistern und es macht sehr viel Spass, auch wenn meistens kein gutes Demo dabei heraus kommt.
Unterteilt habe ich es zur Zeit in zwei Projekten. Das erste ist Jomisee (Kürzel aus Namen), wo hier doch mehr ein Stil ala Pink Floyd, Tangerine Dream, etc. dominiert und das ganze mit eigenen Ideen vermischt wird! Experimentieren halt!
Das zweite Projekt heißt Metalia (war einmal eine Webseite von mir, so lebt wenigstens der Name weiter), wo hier meine harte Seite als Rocker durchschlägt und wo es vom Rock bis hin zum Heavy Metal alles versucht wird!
Im Musik-Player sind die Tracks nach dem Entstehungs-Datum gelistet! Mit der Zeit kommen noch ein paar Demos älteren Datums dazu und natürlich auch neue!
All tracks produced and arranged by Maiko Seehaase (Project Jomisee)
JOMISEE – WEDNESDAY NEVER COMES [VIDEO]

Video by Project Jomisee
Weitere Tracks in MP3 von Jomisee!
All tracks produced and arranged by Maiko Seehaase (Project Jomisee)